THERAPY WHEN AND WHERE YOU NEED IT
SPORTS THERAPY
Loosen tense muscles pre-workout
Reduce tightness in muscles post workout
Promote muscle recovery
Increase blood circulation
Improve flexibility and range of motion
REHABILITATION AND THERAPY
Reduce pain caused by muscle tension
Reduce swelling by stimulating blood flow
Target specific muscle groups with precision massage
POWER AND ENDURANCE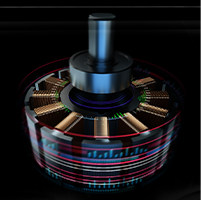 HIGH TORQUE BRUSHLESS MOTORS
The newest brushless motor technology generates the high torque you need to work out a tight knot in your muscles without sacrificing performance. Our motors generate less heat, run quieter, deliver faster response times, draw less power, and last 5-6 times as long as standard brushed motors.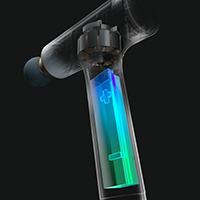 LESS CHARGING, MORE MASSAGE
With our 3rd gen lithium ion battery technology our long-lasting batteries run up to 6 hours without a charge.
* These results are calculated according to company standards.
* Please note that usable time may vary depending on the environment and method of use.
6
INTERCHANGEABLE MASSAGE HEADS
You'll find the perfect massage tool to workout your aches and pains. Easy to change.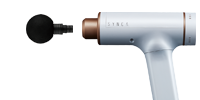 ROUND

Round shape for use anywhere on the body such as arms, back and hips.

FLAT

Flat Shape for large areas such as back, thighs and calves.

FORK

Fork shape for thin areas such as the neck, spine, and upper arms.

WEDGE

Wedge shape for muscle-bone boundaries on shoulders, back, etc.

BULLET

Bullet shape for deep muscle tissue such as joints, palms and soles.

DOUBLE

Double uses soft material for gentle massage of the whole body such as shoulder and thighs.
6
LEVELS OF STRENGTH
From 1500 – 3000 RPM one touch of the power button dials up or down the strength you need.
DESIGNED TO HELP YOU LIVE YOUR BEST LIFE
LIGHT & COMPACT

Ultralight and portable (1.5lb), easy to carry, you'll have massage when and where you need it.

EASY TO USE & HYGIENIC

Ergonomic design and controllable with only one button. Easy to wipe clean and sanitize the handle - No rubberized grips that trap germs and viruses.

QUIET

Using brushless motors you get extreme performance with little to no noise. Under (50db) - Quiet enough to be used in your house or office without anyone noticing.
DESIGNED IN JAPAN
A premium travel case, simple to use interface, and an elegant design and finish - brought to you by the SYNCA team in Japan where attention to detail matters.
Product Specifications
Product Name
Muscle Percussion Gun - Kitta
Product Code
HM190
Color
White Pearl
Adapter Input
100-240V 50/60Hz
Adapter Output
DC16.8V 0.8A
Battery Type
Li-ion 2000mAh 14.8V
Battery Life
Approx. 3.5-6 hours
Battery Charge Time
Approx. 2.5-3 hours
Size
Approx. W57 x D230 x H221 mm
(W2.2 x D9.0 x H8.7 in)
Weight
Approx. 685g (1.5lb)