More than a piece of furniture,
A massage chair
Experience the elegance of Japanese "Shibui" design.
Traditional massage chairs are large, bulky, shiny, and can be an eyesore.
The CirC+ uses the "Shibui" Japanese design approach resulting in something that's subtly beautiful that you learn to appreciate the little details in.
At first glance most people see a chair, but you'll fall in love with the massage that reaches from your glutes up to your neck and shoulder - the soothing heat, the comfort, the ease of the wireless remote.
Some things in life should be appreciated, the CirC+ is one of them.
A ZERO GRAVITY CRADLE TO HELP YOU FIND RELAXATION
Zero Gravity is a neutral posture position that was developed by Nasa where the seat cradles and supports your body at precise angles and provides balanced equal support from the legs up to the head. This reduces impact on the body by taking pressure off the lower vertebrae, reducing restriction points on your blood vessel, and it just feels good.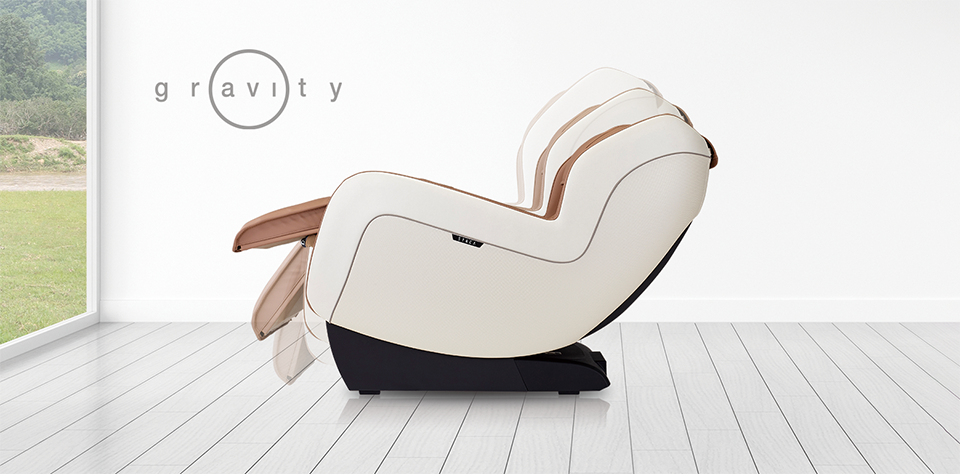 The CirC+ requires under 6inches of space behind the chair (15cm) when fully reclined, This allows you put the massage chair anywhere in your house you want without worrying about it hitting the wall as it reclines backs.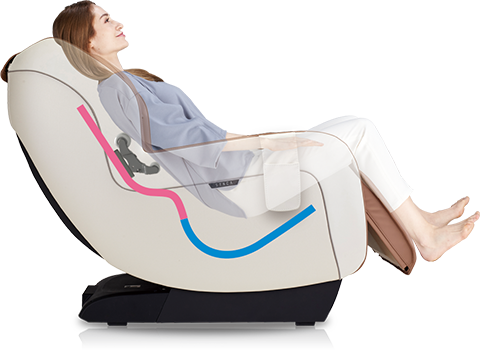 Long SL Track Rail
Using a 45.5in long rail SL Track massage system you'll receive deeper massage and more coverage than most other chairs on the market.
A FULL-SIZE MASSAGE ROBOT HIDDEN IN A CHAIR
Similar chairs will replace metal parts with plastic or use simplified massage robots that cost less but are less effective, the CirC+ doesn't cut any corners and uses the same massage robot you'll find in chairs twice its price.
NECK AND SHOULDER

Deep circular kneading movements reduce muscle tension and stiffness

FULL BACK

Rolling movement provide traction along the spine loosening hard to reach muscles

LUMBAR TO BUTTOCKS

The deep circular kneading and rolling movements provide thorough coverage throughout the lower back and glutes helping loosen muscles and provide relief along the Sciatic nerve.
4 MASSAGE HANDS
Quad Roller Technology utilized in full size massage chair delivers superior coverage, quality of massage technique, and a more therapeutic massage – most similar chairs use reduced performance systems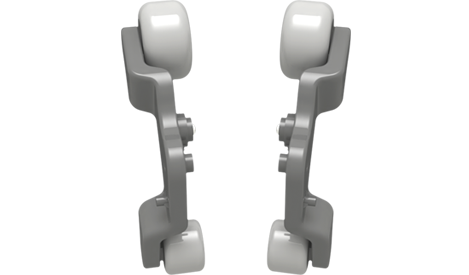 SIMPLE AND WIRELESS

PRE-PROGRAMED COURSE

ENERGIZE
Deep-tissue massage designed to work out firm knots in the muscles.

RELAX
Smooth yet firm relaxing massage, great for relaxing.

SLEEP
Gentle and calming massaging ideal for and end of the day treat.
FOCUSED RELIEF COURSES
Neck & Shoulder
Waist / Lumbar
Buttocks / Sciatic
Back stretch
ZG Cycle - Nuetral Posture Relief
MANUAL OPERATION FOR PINPOINT RELIEF YOU
| | | | | |
| --- | --- | --- | --- | --- |
| Massage | Tapping | Rub & Tap | Heater | Air |
| | | |
| --- | --- | --- |
| Massage | Tapping | Rub & Tap |
| Heater | Air | |
WIRELESS REMOTE CONTROL
Easy to use, no cords dangling everywhere, simple, clean, elegant.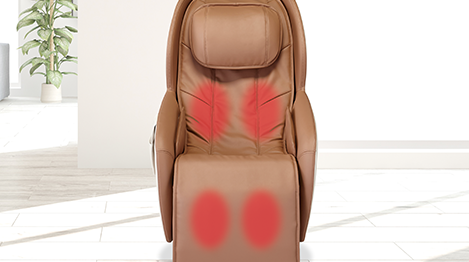 HEAT THERAPY
Therapeutic heat is delivered to the lower back and back of the legs so even if you're just sitting back and relaxing and watching some tv you can enjoy some soothing heat.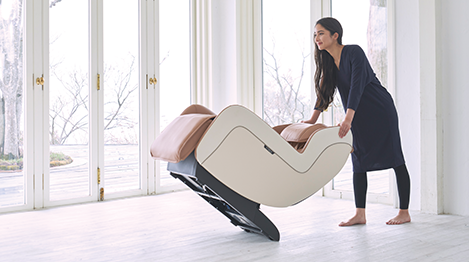 EASY TO MOVE
Just tilt and roll, the CirC+ will easily glide into whatever room you want it so your home looks just the way you want it, and you can enjoy massage wherever you'd like.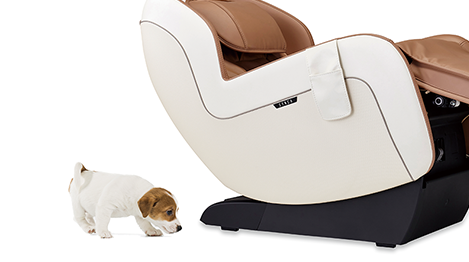 MOVEMENT DETECTION SENSOR
A sensor embedded in the back of the chair helps keep your loved ones safe.
It can detect and halt a chairs recline even if you forgot to check.
PRODUCT SPECIFICATIONS
Product Name

Compact Massage Chair CirC plus

Model No

MR360

Size

Upright :
L42.1 x W23.6 x H36.2in
(L1,070 x W600 x H920mm)

Reclined :
L53.1 x W23.6 x H30.7in
(L1,350 x W600 x H780mm)

Weight

103lbs (47kg)

Max. User Weight

264lbs (120kg)

Rating

220-240V~ / 88W

Frequency

50-60Hz